Almost everyone has their own podcast these days, or so the joke goes. That gag isn't new, of course, and neither is the idea that every news headline will likely end up getting the true-crime treatment. Comedy-meets-mystery series Only Murders in the Building doesn't pretend otherwise, with the latest addition to Disney+ firmly leaning into both notions. Here, three New York neighbours who don't think they have anything in common initially bond over their favourite true-crime podcast. Then, when someone in their building turns up dead, they decide to start their own.
The wannabe Sarah Koenigs: actor Charles-Haden Savage (Steve Martin, It's Complicated), who used to play a detective on a long-running 90s television show; theatre producer Oliver Putnam (Martin Short, Schmigadoon!), who's better known for his big flops than his hits; and the younger Mabel Mora (Selena Gomez, The Dead Don't Die), who had a penchant for Hardy Boys books when she was a kid. They first cross paths during an elevator ride, where they hear banker Tim Kono (Julian Cihi, The Tick) berating someone over the phone. The same evening, the unlikely trio are forced out of their apartments during a fire alarm, reluctantly share a table at the downstairs restaurant, realise they're all hooked on the same podcast — with Only Murders in the Building's true-crime podcasting guru called Cinda Canning, and played by Tina Fey — and then return home to discover that Tim has been murdered.
From there, Charles, Oliver and Mabel are determined to do three things: find out who killed Tim, record their sleuthing and release the results in audio form. They all have different stakes in their quest; Charles is lonely, and likes having something to fill his days other than auditions, while Oliver is hoping it'll be a big financial success and Mabel secretly has personal connections to the case. They're new acquaintances, too, so they're investigating each other in a way — asking questions and getting to know one another, because that's how all friendships starts — as they're trying to track down the killer. And, plenty of that to-and-fro gets recorded. The name of their podcast: Only Murders in the Building, naturally.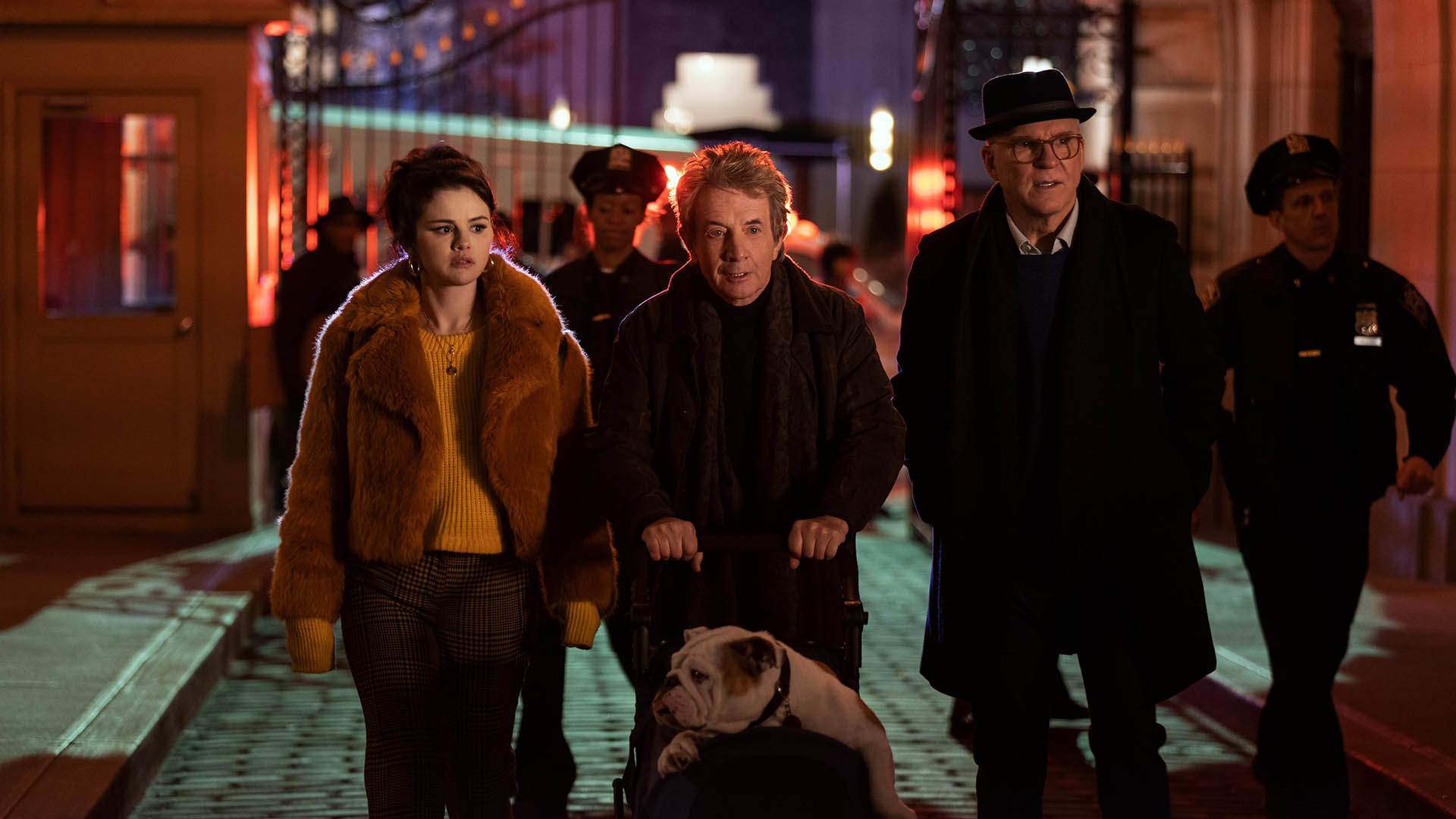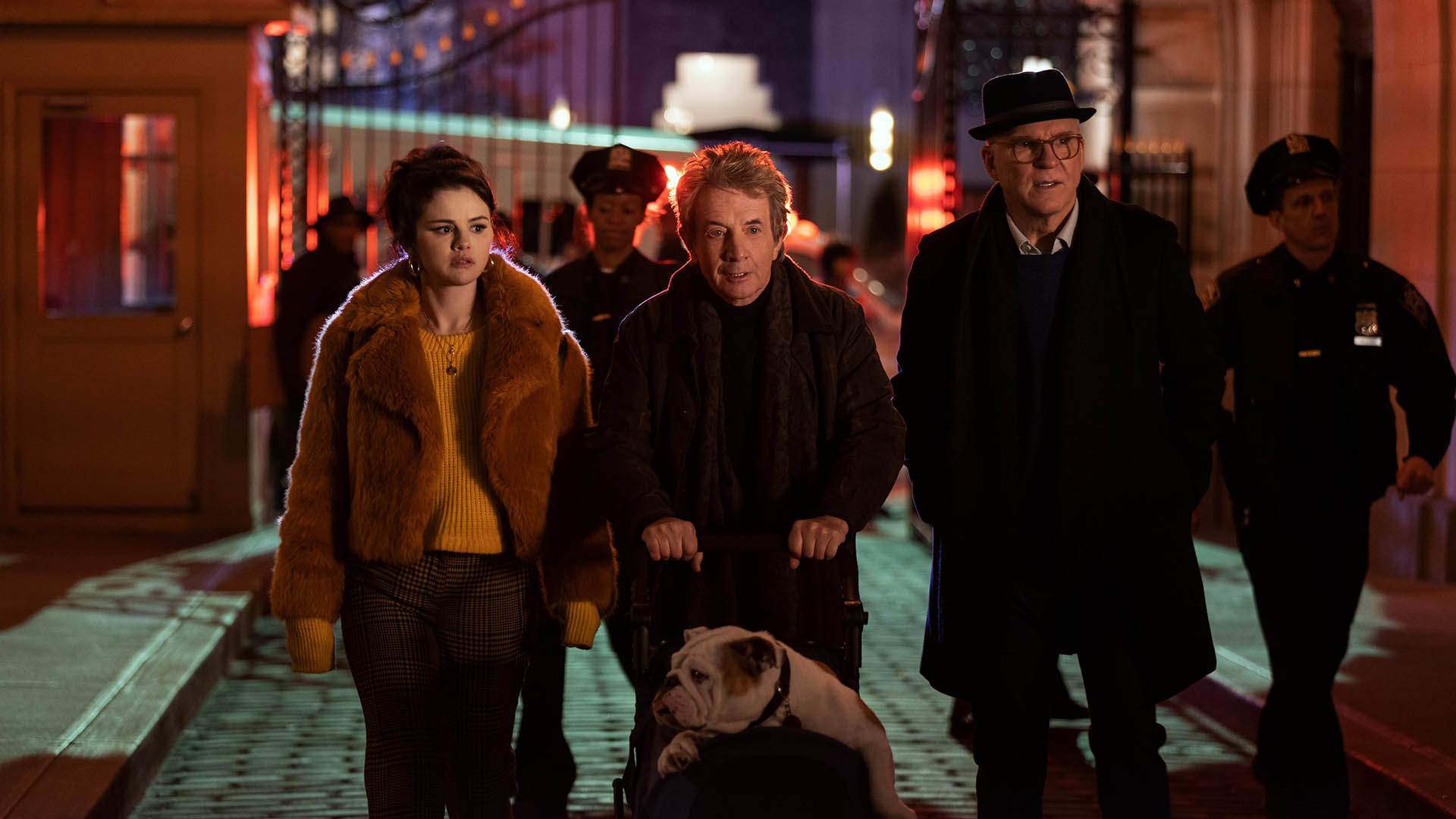 As created by Martin with actor-turned-screenwriter John Hoffman (Grace and Frankie), Only Murders in the Building keeps leaning in again and again — to its upbeat satire of true-crime obsessions, podcasting's pervasiveness and the intersection of the two, and also to everything else it fits within its frames. It lets its main trio all play exactly the kind of characters you think they will, especially in Short's case. It mines their mismatched vibe, particularly with Gomez, with hearty affection. It adores its single-setting Agatha Christie-lite setup, and also loves peppering in highly recognisable co-stars and guest stars such as Fey, Nathan Lane (Penny Dreadful: City of Angels), Amy Ryan (Late Night) and even Sting. With the latter, it isn't above making puns about not standing so close to him, or just serving up jokes on that level in general.
On paper, so much about Only Murders in the Building hits all the expected notes — and yet, everything about the series is also joyously entertaining. Indeed, the show initially seems like it shouldn't work as well as it does, yet quickly proves immensely easy to keep binging (even if you only originally plan to watch one episode). The fact that it's made with a breezy spirit, ample charm and an astute awareness of its many targets couldn't be more crucial. That it takes the time to flesh out its characters within its 30-minute episodes, and to keep its central whodunnit twisting and turning amidst the jokes, also helps. And, Only Murders in the Building also embraces two inescapable facts that long precede the true-crime podcast boom: that we all like knowing what's going on around us, and that we tend to love the sound of our own voices as well.
Another key facet: spot-on casting. Again, it doesn't initially seem as though Martin, Short and Gomez will be stretched by their parts, as likeable as all three usually are on-screen. But settling into comfortable grooves also gives the trio room to play around with everything that makes Charles, Oliver and Mabel tick — and Only Murders in the Building does love getting playful. It makes gags about Charles' old TV show, Oliver's stage bombs (Splash! The Musical is one of them) and Mabel's secrets, and makes plenty of them. And yet, it's also written and acted with enough depth to pair relatable character insights with its bubbly, clownish fun. If Knives Out was a goofier sitcom, it'd turn out like this — and that's a delight, obviously.
Check out the trailer for Only Murders in the Building below:
[embedded content]
The first three episodes of Only Murders in the Building are available to stream now via Star on Disney+, with new episodes dropping weekly.
Images: Craig Blankenhorn/Hulu.

Published on September 02, 2021 by Sarah Ward